5 axis learning
Hi mates how are you guys today, after drawing what it seems to be 4th and 5th axis for my Shapeoko, i started the journey of understanding how to set up the machine in fusion 360 and where WCS needs to be located, also learned how to enable 5 axis post for my MASSO controller, scary stuff the first time you see all of it but i think i may be on the money.
It happens that first you set up a new machine on Fusion and create the new rotary axis in my case A and C, where A is A on Masso and C is B on MASSO
Then set the post processor to enable 5 axis and then How do i program Fusion 360 to Machine the faces that are not on the Z axis???
After watching videos i found a tab called Tool orientation, where you define z axis for the tool, and guess what? Fusion takes care of the machine motion and positions the part on the right direction cool stuff
i am still learning about tool warping and Swarf, but this looks promising, i downloaded a 5 axis machine simulator and loaded the code and IT WORKS!!!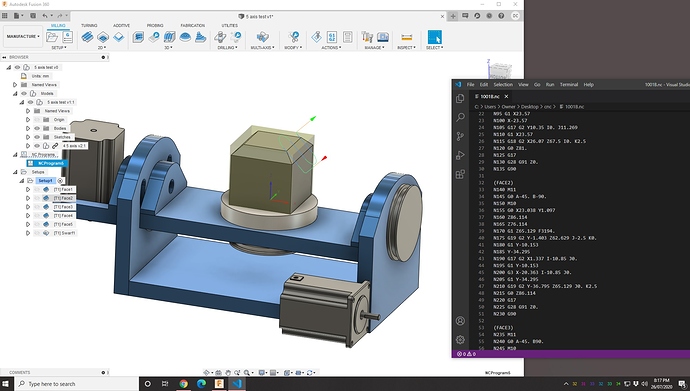 cam and post testing1901 1079 300 KB
On the image you can see my design with a simple cubed part on top it happens that you need the Stock holder or whatever is there modeled in orde to define a fixure so Fusion knows what is happening, and then, WHERE DO I REFERENCE THIS ON THE MACHINE ???
I hope not to be wrong, but in my case it seems i have to refference the WCS on the spot where both rotation axis intersect, that is where i will set my work piece 0,0,0 and 0,0

Another thing, my A axis movement ranges from -90 to 90 deg and the C axis rotates full 360
My head sort of hurts from understanding all of this in one go i hope this info is usefull for someone
On the image you can see my Part installed on the fixure (my designed 4 5 axis thing) and the post processor output
as you can see the operation on fusion is machining one chamfer on the cube and the code is telling the A axis to tilt to -45 deg and the B axis (C on fusion) to -90 placing the part on this position for machining: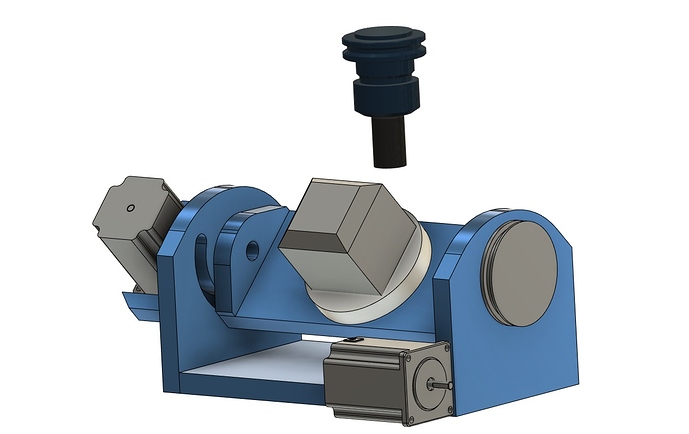 tilted axis1195 753 84.1 KB
I really hope i am not so wrong, i will start to make the rotary table this week
Bye Guys!!!